On January 27, Yandex had a huge source code leak by a former employee. The Yandex leak contained more than 1,900 search engine ranking factors. Needless to say, the SEO community has been giddy with delight pouring over the details and extracting guidance for ranking factors.
If you're asking WTF is Yandex and why this matters, here are some facts:
Yandex is the #1 search engine in Russia with 54% market share. It's also the 4th most popular modern search engine globally.
Data from AnalyzeThis.ru found Yandex results are about 70% as good as Google's in most categories, and nearly equal for Russian searchers.
Yandex crawls Google to influence its own ranking
Yandex employs many ex-Google workers to contribute to their algorithm
The leak revealed Page Rank, Google's original secret sauce, is a major ranking factor for Yandex
Only a fraction of Yandex's source code was leaked and some of it is outdated, Yandex is also not Google, but there is still a lot to learn from their ranking factors.
244 of the leaked ranking factors have been removed, and 988 have been deprecated or updated
There are some great articles for more detail on the leak and what this leak means to the SEO industry, but this blog focused on what you can learn from it to apply to your SEO practices.
Let's dive in!
Confirmed Yandex Search Ranking Factors
Number of Unique Website Visitors
Your Website's Average Ranking for All the Keywords it Ranks For
Diversify Traffic Sources from Organic Traffic Only
Drive Return Visitors
Search Engine Results Page CTR
Get a Lot of High-Quality Backlinks, Avoid Weak Links
Get Links from the 100 PageRank Websites and the Websites That Link to Them
Get Unique Links
Having Verified Social Accounts (eg Twitter Checkmark)
Having Low Quality Content Affects Overall Site Rank
URL Rules: Avoid Numbers & Excessive Folders, Do Include Keywords
Page Age & Last Updated Date
Link Out from Main Pages to Other Important Pages
Embed Maps
More Quick Hits Ranking Factors
Complete List of Ranking Factors Organized into a Filterable Google Sheet
Traffic Matters: The Number of Unique Visitors to Your Site Influences Your Rank

There are a few things we SEOs and digital marketers can do with this information.
First, focus on easy-win keywords that are less competitive to earn some organic traffic before trying to optimize for more competitive head terms.
Second, drive visitors from other sources than solely relying on organic traffic. Traffic from social media, email, direct, and ads can contribute to your organic rank.
Be Specific: Your Website's Average Ranking for All the Keywords it Ranks For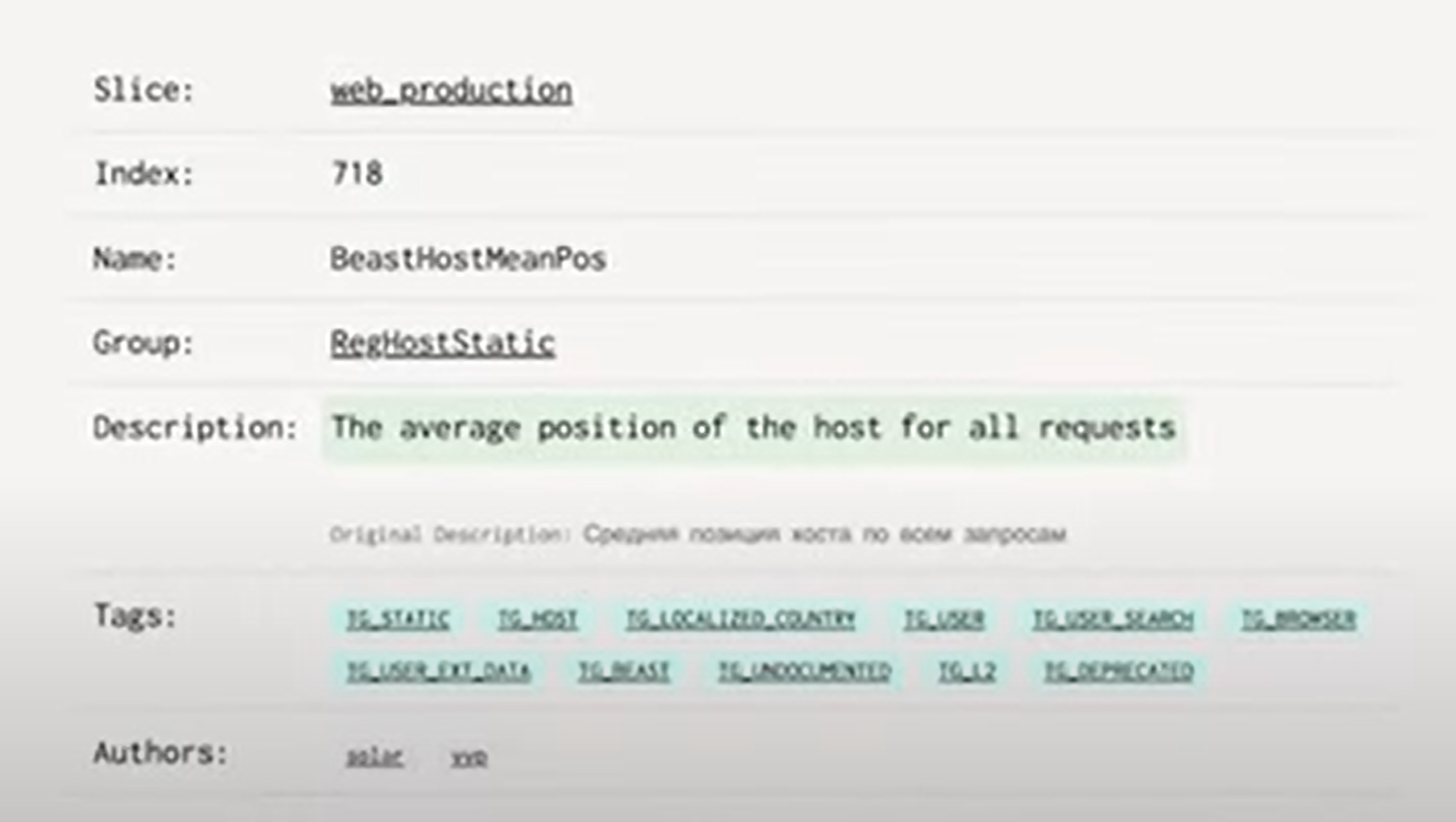 This was an interesting one and new to me. The insight here is to keep your content "on topic". If you rank for a wide range of keywords but in a high position, then it will hurt your rank on more specific queries. Essentially you don't want to have thousands of keywords in position 50+ and none on page 1.
Don't create content that is wildly different than your website's core content. Otherwise, it will rank for randomness very poorly, bringing down the average position for the website.
Mix it Up: Diversity Traffic from Organic Traffic Sources Only

If your website's only traffic source is from search engines, it will hurt your rank. A normal, legit website would have visitors from social media, paid media, and email marketing. It's a little shady if organic search makes up an unnaturally large share of traffic.
The Yandex leak further revealed that direct traffic and social media traffic are especially strong ranking factors.


Leave Them Wanting More: Drive Return Visitors

Search engines reward websites that users like and trust enough to return to regularly. So Yandex ranking factors include rewarding websites that users return to regularly.
How do attract return visitors?
Obviously have a high-quality site with a nice design and valuable content. But building an email list and social media following that brings users back also benefits your rank. For e-commerce and business websites, retargeting is also a good way to attract return visitors. The benefits are greater than SEO alone as well.
Entice the Click: Search Engine Results Page CTR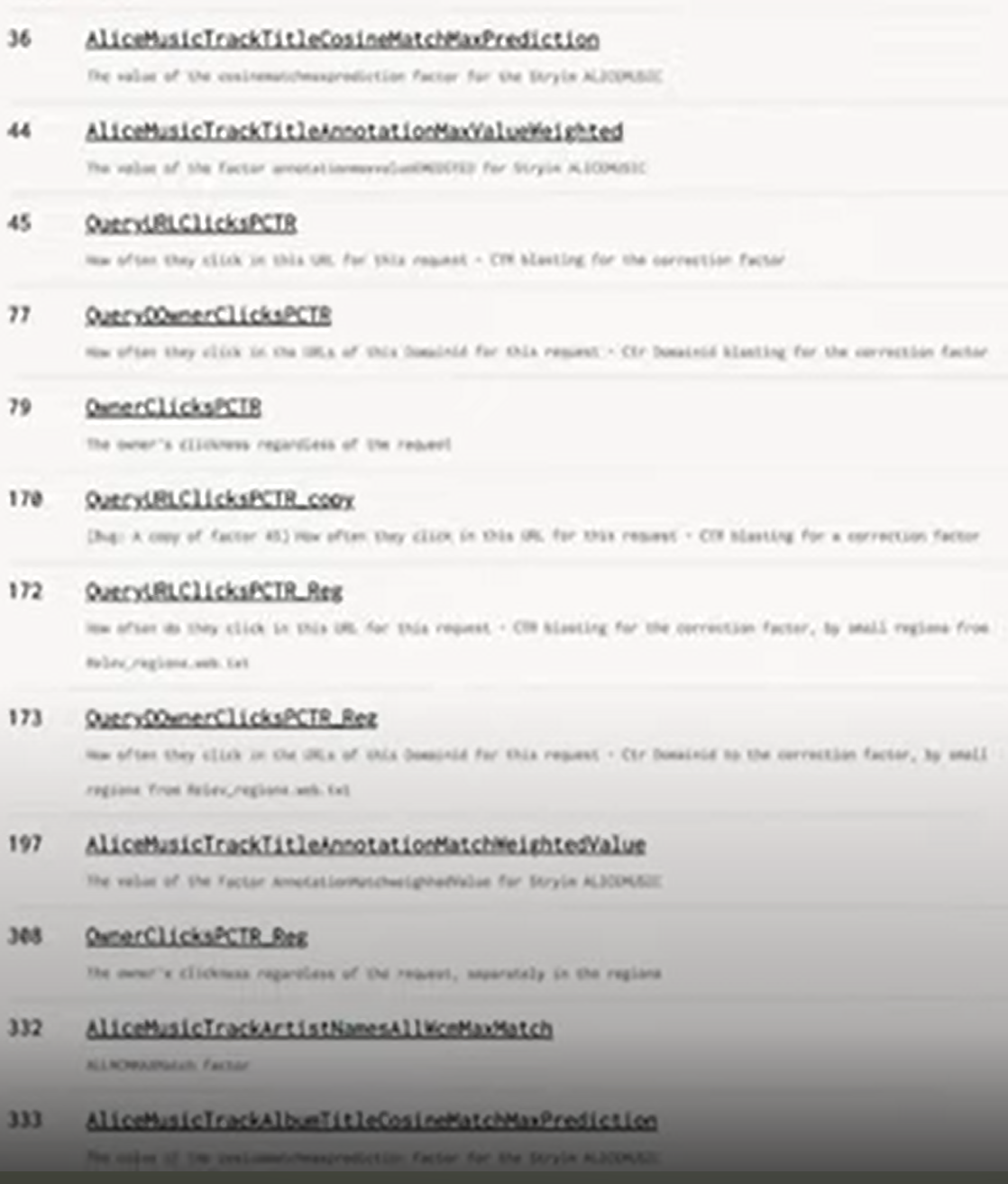 There are more CTR (click-through rate) mentions than I can count! The main takeaway is to write great Meta titles and Meta descriptions. Give searchers a reason to click your link in the SERP instead of the sea of others.
What drives a high CTR?
Highly relevant and specific to the page
Includes the user's search query
Includes a call-to-action (eg, Get a Free Trial, Speak with a Lawyer Today)
Fresh & Timely (eg, includes year or date)
Compelling, Intriguing, Some Mystery (Learn the 7 Secrets to XYZ)
Offers Value or a Solution, Especially if It's Fast & Simple (Step-by-Step How to Clean Your Running Shoes So They Look New in Under 3 Minutes)
Get a Lot of High-Quality Backlinks, Avoid Weak Links
This is a little obvious and the Yandex leak did not include specifics of what a high-quality link or a low-quality link is specifically. But link related factors are a thing as those in the SEO industry can confirm.
Get Links from the 100 PageRank Websites and the Websites That They Link Out To
The Yandex code leak did reveal though that links from the very top 100 PageRank sites carries serious weight. If you can't get top links from those sites, then the next best thing is to earn links from the sites that they link out to.
Get Unique Links
Don't bother coming back for more links from the same websites. The value is decreased greatly on the subsequent backlinks from the same site.
Get Checked: Have a Verified Social Account

Notably, the Twitter blue checkmark shows the search engine that you're legit.
Having Low Quality Content Affects Overall Site Rank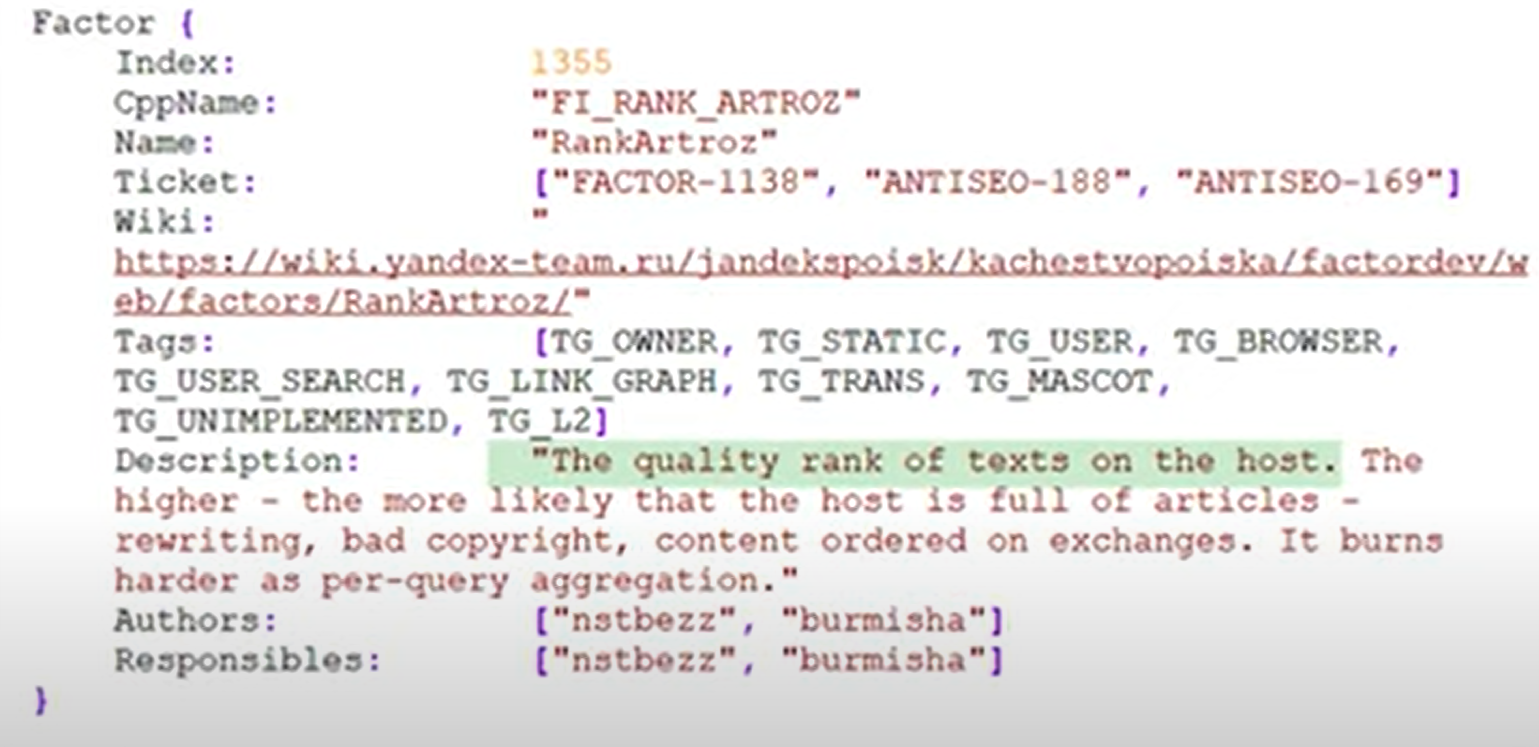 Having a lot of great content can be brought down if your website also has too much unhelpful content pages.
Using Google Analytics, Google Search Console, and Screaming Frog you can quickly find and eliminate low-value pages. See how to do an SEO content cleanup in this blog including a video walkthrough.
URL Rules: Avoid Numbers, Hyphens & Excessive Folders, Do Include Keywords and Keep it Short
The Yandex leak included some details on URLs as well. They consider URLs with numbers and -'s to be spammy and too many folders can ding your rank too. Keywords are beneficial and the "face tattoo" of telling search engines what your website is about since you can't change it. (eg PingPongTables.com)
Post Early & Stay Current: Page Age & Last Updated Date

The source code leak revealed that pages get a boost when they've been around a while and built up some history. However, a separate ranking factor is how recently the page was updated. So be sure to update and maintain important pages to ensure they stay ranking well.
Internal Networking: Link out from main pages to other important pages

Use internal links with relevant keyword anchor text to pass link juice from main pages to other important pages you'd like to rank. Check your Google Analytics page reports to see which are your most traffic pages then build links from there. If your website is built on WordPress, also check out the Link Whisper plugin to make internal linking simple and semi-automated.
Embed Maps

Map embeds are a ranking factor when relevant. In my opinion, nearly any business with a physical address, even if it's just an office or coworking space, needs to have its address and ideally embed a map on its website. This would particularly boost local rank near your location.
If a travel website reviews hotels, the map embed would be for the locations instead of its own office.
Reduce Crawl Depth & Eliminate Orphan Pages

The more clicks required to get to a page from the homepage, the less ideal. Check out Screaming Frog's free tool to quickly check all pages on your website's crawl depth.

If a page isn't linked from any other pages, it's pretty much a ghost to the modern search engine.
Grab Bag: More Quick Hits Ranking Factors
Negative Ranking Factors
Adult content (eg, Porn, Nasty Content, Vulgarities)
Broken embed videos
Excessive display ads
High bounce rate and low time on page
Large areas use Flash Player
Positive Ranking Factors
Links from Wikipedia
Keywords in Anchor Text
Local Ranking Factors: Ratio of Clicks from Local Users
Number of Times Bookmarked
Commercial Intent – has products or offers for sale
Russian Language
Use of Ngram keywords (related, relevant terms used in content)
Use of synonyms
Has a blog, especially if a "livejournal.com" blog
Renders well on IoS, Android, Tablet, Mobile, and Desktop
Complete List of Ranking Factors Organized into a Filterable Google Sheet
Thanks to Nathan Gotch for curating all of the Yandex search engine ranking factors into this invaluable Google Document for the SEO community.

What's Next?
Work with our SEO pros to apply the outrageous learnings from the source code leak and other organic search strategies. Get started with a free strategy session and SEO audit through your Google Data. Schedule now!
FAQs
What Exactly is Yandex?
From Wikipedia: Yandex LLC (Russian: Яндекс) is a Russian tech giant company providing Internet-related products and services. Yandex services include an Internet search engine, information services, e-commerce, transportation, maps and navigation, mobile applications, and online advertising. It primarily serves audiences in Russia and the Commonwealth of Independent States of the former Soviet Union
Is Yandex a Google Clone?
Not exactly, but many in the SEO community consider Yandex to be the closest Google alternative with the most similar search results of international search engines.
It was also revealed in Yandex's source code that they regularly scrape Google SEO results to apply to their own ranking algorithms.