Access performance data in a single interface updated in real-time. No more waiting on weekly reports, stitching data together in Excel, or incomplete datasets. We compile multiple data sources in a customizable Google Data Studio or Google Sheets report using Super Metrics integrations.
Even the best data and most comprehensive reporting are useless without insights and actions. Our team of marketing analysts reviews performance to identify trends and areas for optimization to create a strategic roadmap.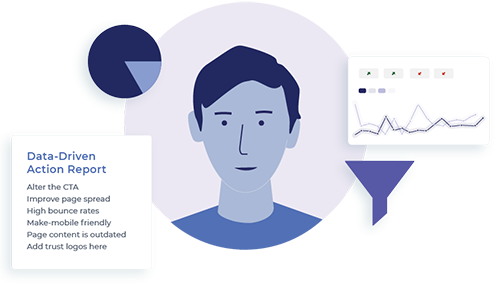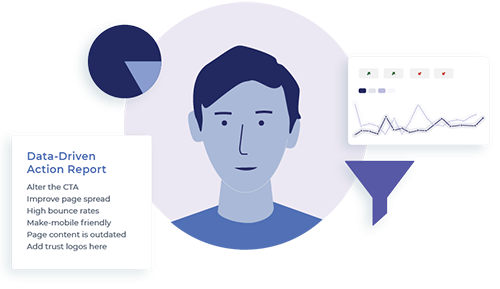 Complex B2B and enterprise marketers know the sale doesn't happen on with a single click. That's why we utilize lead quality reporting from Hubspot, Marketo, or Salesforce to connect quality leads back to their original marketing traffic sources. We help to solve attribution while also setting up complex retargeting and re-engagement marketing to meet users where they're at in the funnel.
What could you do with better analytics?
If you don't have reliable reporting and goal tracking set up, then you can't fully understand the impact of your digital marketing program or web design. Go beyond basic web traffic reporting – understand the full funnel of lead signups, eBook downloads, sales revenue, in-cart analytics, and more.
If you don't know what's working or broken, your digital marketing program is flying blind.
The team at Upgrow will work with you to determine the goals of your website and the most important actions you want users to take. Then we'll do a comprehensive audit of any existing analytics then set up Google Tag Manager, Google Analytics, and a list of goals to track. With this in place, we will build a customized Google Data Studio report where you can not just your website's performance but also marketing channel data like cost, clicks, and conversions, and the effectiveness of social media programs.
Track the events that matter to your business and bring all your data sources into a simple executive-level view. Since our dashboards are fully customized, we can build them to include everything you need, and nothing you don't.
Web Analytics
Services Offered
Our expert web analytics team can set you up to track and report on any and all important events on your site. Whether it's revenue, ebook downloads, webinar signups, blog engagement, video views or anything else, we can track it and report on it in a sleek, dynamic dashboard.
Our web analytics services include:
Review of any existing analytics to identify problems or opportunities
Install Google Tag Manager
Install Google Analytics
Create Google Tag Manager events
Create Google Analytics conversion goals
Design a Google Data Studio reporting dashboard
Supermetrics power-users for Google Sheets and Google Data Studio
Tracking and reporting without actionable insights and recommendations won't do you any good. That's why we take the time to review the data for you and share a strategy. So what kind of analytics insights can you expect?
Resolve poor landing page conversion rates
Improve bounce rates
Feature more of the content that users want to see
Make your checkout cart smarter and simpler
Run more of the ad audiences that convert, and less that don't
Clarify confusing content
Optimize for qualified leads (stop giving credit for junk leads)
And way more than we can even begin to list here…

+45% Sales, -70% Cost-Per-Order
Upgrow helped us rapidly test and scale within our search program, driving us to go from almost no search to a fully functioning SEM machine.
Katelyn Watson - VP of Marketing, Nurx
+209% Leads, -63% Cost-Per-Lead
Their ability to optimize our PPC spend is outstanding; they ensure that we have the right audience segmentation and constantly curate the titles of the list to avoid gaps in spending.  Our industry costs per lead have been half of what the average is. Overall, they're a great partner, helping us massively with our business.
Maggie Williams Dryden
+100% Applications, +21% Conversion Rates
Upgrow has been an instrumental partner in the digital transformation of our marketing programs. They provide invaluable strategic advice and great speed of execution and are growth experts in digital marketing. We've seen tremendous growth in our business and look forward to doing more with them.
Jessica Lasko, SVP Marketing Capital Bank
+200% Leads, -30% Cost-Per-Lead
Upgrow has been a invaluable partner to help take our SEO and Google Ads program to the next level. Our account team is responsive, highly engaged, strategic and consistently finds new opportunities. But their strongest differentiator is their ability to communicate the "why" behind a recommended tactic or strategy.
Jeannie Christensen - Marketing Director, Twistlock
Upgrow provides us support on all sides for SEO; listing out technical changes that need to be made, helping us with content improvement suggestions and keywords, and reporting back on the impact the work has made. They are incredibly proactive!
Etel Sverdlov, Prisma Developer Relations
Upgrow has been an awesome partner in helping Alooma drive MQL growth through Google Ads, leading up to our acquisition by Google. It's been awesome working with the Upgrow team. They're very smart, highly responsive and deliver results!
Michael Price, Digital Marketing Manager Alooma

The Upgrow team has been a valuable extension of the SingleStore marketing team. They have helped us scale our demand generation through smartly executed digital marketing campaigns, providing exactly the staffing we have needed to meet our growth goals.
Peter Guagenti, CMO SingleStore