Discover the full spectrum of
SEO
(search engine optimization) services that boost your website's visibility and attract more organic traffic. But before you can determine which type of SEO you need most, you need to see a complete list of SEO services available. Only after reviewing the full menu can you determine what's most urgent.
From technical optimization to content marketing, this blog post explores 19 different types of SEO services you can use to drive results and meet your online goals. Whether you're a small business owner or manage a multinational corporation, this complete list of SEO options will help you make informed decisions and execute a successful SEO strategy.
Table of Contents:
The Types of SEO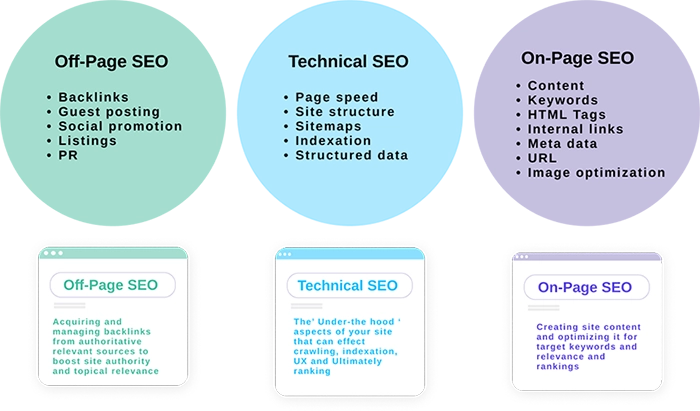 On-Page SEO
On page SEO or on-site SEO optimizes various elements on or within a website instead of focusing on external factors. This type of SEO attempts to optimize both HTML source codes and the page content. It does not focus on site-wide optimization. On-page SEO services specifically involve content writing, content optimization, keyword research, meta descriptions, page titles, images, and URL slugs.
Off-Page SEO
Off-page SEO is a critical aspect of search engine optimization that involves optimizing a website through activities that occur outside of the website itself. These activities can help improve a website's search engine ranking position by establishing the website's authority, relevance, and popularity. Common off-page optimization actions include building relevant links to the website, encouraging branded searches, and increasing engagement and shares on social media. The use of off-page SEO services can help businesses to build high-quality links to their websites, which is a crucial factor in improving search engine rankings.
Technical SEO
Technical SEO includes optimizations within your server and website. This enables a website to make the most of a search engine's ability to crawl and index the site. This type of SEO includes expertise in areas such as increasing website speed, adding HTTPS security, using structured data, building an ideal website hierarchy and structure, and increasing mobile friendliness.
Local SEO
Local SEO is a strategy that can make your business or product more prominent in local searches. The primary goals are to increase rankings within a local market the business serves. Subcategories within local SEO include maps (eg, Google Maps) and Local Pack.
List of SEO Services
There are many types of SEO services that consultants and agencies can offer. Many include a variety of on-page, off-page, technical, and sometimes local SEO. Now that we've covered the types of SEO, we'll review a list of SEO services to consider. These are organized under the strategy, on-page, off-page, technical, and local SEO.
SEO Strategy Services
Strategy services will help you define your SEO needs. The exact strategy you should use depends on many factors, including the type of business or product you're promoting and your website's design.
1. SEO Strategy Consulting

SEO strategy consulting is the process of working with a professional to improve a website's visibility and ranking on search engines through optimization techniques such as improving content, building backlinks, and increasing online presence. The goal is to drive more traffic and achieve desired outcomes, such as increased sales or leads.

Any good SEO program starts with a sound SEO strategy. The strategist will build your roadmap, identify the top SEO priorities, and create projections for the program to ensure it achieves your goals.business needs, and much more.
Free eBook: 7 Common Mistakes Making It Impossible for SEO to Generate Sales
The only guide you need to increase conversions, drive a hungry inbound sales pipeline, and put you at the top of the rankings for your most important keywords.
2. Keyword Research
Keyword research is the process of identifying and analyzing the keywords and phrases that people use to search for products, services, or information related to your business or industry. The goal of keyword research is to understand which keywords and phrases are most relevant to your business and which have the highest search volume and potential for driving traffic to your website.
The best target keywords are rankable (not overly competitive for your website), have a healthy search volume, and are the target audience for your brand.
Keyword research can be done using various tools, such as Google Keyword Planner, SEMrush, Ahrefs, etc. These tools can provide data on search volume, competitive level, CPC, and other metrics that can help you understand the potential of different keywords and make informed decisions about which ones to target in your SEO efforts.
3. Technical SEO Audit
A technical SEO audit would diagnose the performance of several individual items, including page speed, site structure, user experience, and crawlability.
The goal of a technical SEO audit is to identify any technical issues that may prevent search engines from crawling, indexing, and ranking a website, and to make recommendations for how to fix those issues. Common technical SEO issues include broken links, duplicate content, missing alt text, and poor site structure.
4. Competitor and Industry Research
It's a good practice to conduct research on your competition's SEO strengths and weaknesses. Researching individual companies and industries that are similar to yours will show how you compare and where you need improvement. The best SEO companies can help you improve your SEO brand, website optimization, and online reputation management.
An SEO competitor audit typically includes an analysis of your competitors' website structure, content, backlinks, keywords, and other on-page and off-page SEO elements.
It also compares your website to your competitors in terms of SEO factors, such as search engine rankings, organic traffic, and social media presence. The goal of an SEO competitive audit is to identify gaps and opportunities in your competitors' SEO strategies and develop a plan to improve your own website's SEO performance by targeting those opportunities. This can include improving your website's content, building backlinks, and optimizing for keywords and phrases that your competitors are targeting.
5. Link Audit
A link audit analyzes links that point to your site. A link audit may help you with your keyword research and improve your overall SEO strategy. A link audit is definitely one you want to perform among the different types of SEO.
An SEO backlink audit is the process of reviewing, analyzing, and evaluating the backlinks (links from other websites) pointing to your website to identify any issues or problems that may impact your website's visibility and search engine rankings.
The audit typically includes an analysis of the quality and quantity of the backlinks, the relevance of the linking websites, the anchor text used in the links, and the overall link profile of the website.
There are three goals of the link audit:
Identify spammy, low-quality backlinks to disavow so search engines won't penalize you for them.
Analyze sources of quality links so you can generate more.
Identify lost and broken links that you may be able to recover by setting up redirects or outreaching to past linking website webmasters to restore backlinks lost.
6. Link Building
While a link audit will tell you where to find your best links, a link-building service executes that strategy by finding link owner contact info, sending emails, writing guest post content, negotiating placement fees, and other parts of getting links placed.
The more high-quality backlinks a website has pointing to it, the more authoritative and trustworthy it's considered to be.
Link-building services can include a variety of tactics, such as:
Guest Blogging: Writing and publishing articles on other websites with links to your site.
Directory Submissions: Submitting your website to online directories and listings.
Broken Link Building: Finding broken links on other websites and offering to replace them with links to your site.
Blogger Outreach: Reaching out to bloggers and website owners in your industry or niche and asking them to link to your site.
SEO link building service is a time-consuming, ongoing process. Still, it's considered an essential part of SEO as it increases the website's visibility, drives more traffic, and ultimately improves its search engine rankings.
7. Linkable Asset Creation
SEO linkable asset creation is a process of creating high-quality, engaging content that's designed to attract backlinks to your website. The idea is that by creating valuable, informative, and shareable content, other websites will naturally want to link to it, increasing the number and quality of backlinks pointing to your website. This can include creating various content types, such as blog posts, infographics, videos, e-books, whitepapers, webinars, and other types of content relevant to your target audience and industry.
The goal of creating a linkable asset is to make it so valuable and interesting that other sites will want to link to it, making it a natural, organic way to acquire backlinks rather than actively seeking them out.
8. Guest Blogging
Guest blogging is the placement of your own content on someone else's site. This is one of the best ways to generate quality links, build personal or business credibility, and improve online visibility. You'll want to post on websites relevant to your website's niche or industry.  Your SEO consultant or SEO agency may already have existing blog relationships to facilitate guest blogging placements more easily.
9. Parasite SEO
Parasite SEO, or parasite hosting, involves posting a forum or blog on a domain with a high page ranking. Google highly ranks sites that are ".edu" as having high authority, and many people will try to post on these domains.
The problem with this type of SEO is that it is normally considered unethical and sometimes illegal. For example, "grayhat" parasite hosting includes posting material on sites that accept user-generated content. Examples of these sites are Slideshare, Medium, Quora, and Tumblr.
Types of On-Page SEO Services
Using on-page SEO services can help boost organic traffic. Types of SEO for on-page services normally revolve around your content.
10. Content Strategy
Creating quality content is essential to consistently achieving high rankings on Google and other search engines. Quality content is normally defined as presenting useful information in a relevant manner.
Content strategy is developing content with specific goals in mind. These goals will likely include improving search engine and social media results. Some particular content strategy questions you'll need to answer to create the best content possible include the following:
Who are you producing content for?
What topics will interest your audience?
What keywords will you select that target your audience?
How will you keep content up-to-date?
11. Content Briefs and Outlines
Content briefs are documents that provide guidelines and help writers know what to write to produce the best content possible. Effectively utilizing different types of SEO will begin with creating an SEO-focused content brief.
Your briefs and outlines need to include your query target, topics your content will cover, and the CTA. SEO consulting can provide you with more ideas for increasing online visibility using briefs and outlines.
12. Content Creation and Editing
After coming up with a content strategy and reviewing all the briefs and outlines, you'll create and put together your content in various formats. Formats might include text, audio, video and various presentations.
Now you're ready for the final step: editing. SEO editing is more than checking for grammatical errors. It involves analysis of topics and research keywords. Finding the best SEO services can provide you with high-quality SEO editing.
Types of Technical SEO Services
Technical SEO tactics are sometimes difficult for businesses to understand. You'll want to find the right SEO company that can provide web development that includes technical services.
13. Technical SEO Monitoring and Maintenance
Monitoring technical SEO means tracking and measuring various technical metrics. You'll want to monitor items such as:
Page Load Speed
Crawl Errors
Duplicate Content
Mobile Friendliness
Google Search Console is a tool that can help you monitor aspects of technical SEO.
14. Page Speed and Core Web Vitals Optimization
Page speed is essential in social media, local search optimization, and just about everything that has to do with SEO and how search engines rate a web page. Core web vitals include the following:
Largest Contentful Paint (LCP): This specifically measures the time from clicking the link to when most of the content is seen on-screen.
First Input Delay (FID): This measures interactivity, or the time from loading a page to user activity.
Cumulative Layout Shift (CLS): This measures the visual stability of a page as it's loading.
Core web vitals combine with other components to ultimately affect a website's SEO.
Types of Local SEO Services
The primary goals of local SEO services are attracting local customers and improving local search optimization.
15. Citation Building
Citations are important for building your local SEO. There are basically two types of citation services: structured and unstructured. Structured citations involve online references that feature or include the name of your business.
Facebook, Yelp, Bing Maps, and Google My Business are four of the basic citations your business needs. Unstructured citations are the instances of your business information in review sites, social media, and blogs.
16. Review Acquisition
Review acquisition is a strategy for bringing in a steady stream of reviews for your product or business. The goal is to have fresh online reviews to help you stand out among other local businesses. The best SEO practices will include continuous reviews coming in over time.
Getting reviews is part of how Google ranks credible links associated with your site. This is specifically true because reviews contain the following:
Discussion about your service or products
Customer reports of interactions with your business
17. Google Business Profile
Google Business Profile helps businesses promote their services and products online. When using different types of SEO, you'll want to use tools such as Google Maps and Search to get the best local results. Here are a few tips to maximize your Google Business Profile:
Fill out the complete profile.
Make sure all info stays up-to-date.
Include professional images and photos.
Use consistent NAP (name, address, phone) throughout the internet.
Alternate Search Engine Optimization Services
Traditional search engines, like Google and Bing, aren't the only place to reach your audience as they search.  YouTube and the App Store are common places to optimize for rank.
18. YouTube SEO and Video Optimization
Video or YouTube SEO involves optimizing Youtube videos, including items such as the title, tags, and the thumbnail. Crafting a keyword-rich and compelling description can help your target audience find your videos.
19. App Store Optimization (ASO)
ASO, or app store marketing, is about increasing your app visibility in an app store. This includes Apple App Store or Google Play. ASO is used primarily to promote app downloads. There are, however, other reasons for app store optimization.
You'll want to use SEO techniques to improve ASO. These include using SEO keywords in your app description. You'll also want to use app indexing and build up app ratings and reviews.
So What SEO Services Do You Need?
Whether it's understanding domain authority and how to make the most of a website audit or conducting competitor research and writing catchy meta descriptions, you'll want an SEO service provider to improve your SEO practices. A professional can assist with creating content, building online reviews, link building, and web page development.
Upgrow can direct you through the maze of finding and implementing the best SEO practices. We can help you create high quality backlinks, conduct competitor and industry research, calculate the best content to use for your web pages, understand the different types of SEO your business needs, and much more.
Schedule a Growth Planning Session with Upgrow Today!
Book a free meeting with Upgrow and unlock the potential of your business through expert marketing solutions.
Seo Services List FAQs
What's the difference between white hat SEO and black hat SEO? Should I consider hiring a Black hat SEO consultant?
White hat SEO refers to techniques and tactics that are used to improve a website's search engine rankings in an ethical and legitimate way. This includes creating high-quality content, optimizing website structure and code, and building backlinks from reputable sources. Black hat SEO, on the other hand, refers to techniques that are used to improve a website's search engine rankings in a way that is considered to be unethical or manipulative. This can include things like keyword stuffing, cloaking, and buying links.
It is not recommended to hire a black hat SEO consultant. While black hat SEO may be able to get a website to rank higher in search results temporarily, it can ultimately lead to penalties or even a ban from search engines. This can harm your brand reputation and affect your revenue. It's better to focus on white hat SEO techniques to improve your website's rankings in the long-term.
Why are some websites ranked higher in search results?
Websites that are ranked higher in search results are typically considered to be more relevant, authoritative, and useful to the user's search queries. This can be due to factors such as high-quality content, good website structure, and backlinks from reputable sources.
What are basic SEO services?
Basic SEO services refer to the fundamental practices that are applied to improve a website's visibility and ranking on search engine results pages (SERPs). These include optimizing website content, meta tags, website structure, and building high-quality backlinks. A reputable SEO agency can provide these services, and more advanced strategies, to help businesses achieve their online goals. By improving a website's SEO, businesses can attract more relevant traffic and increase their online presence.
What is basic vs advance SEO?
Basic SEO involves optimizing a website's content and structure to improve its ranking in search engine results pages (SERPs). Advanced SEO involves more technical strategies, such as improving site speed, implementing schema markup, and conducting thorough keyword research. Both types of SEO aim to improve a website's visibility and drive traffic to it through search engines.