The financial services industry is highly competitive, and businesses in this sector are constantly looking for ways to stand out in search engine rankings. Search engine optimization (SEO) is a primary channel that can help financial services companies increase their visibility online, drive traffic to their website, and generate leads.
Websites like NerdWallet, The Motley Fool, and Investopedia have created an entire business on the back of SEO. So what can others in the financial services sector learn from these financial services websites to rank in search engines themselves?
In this guide to SEO for financial services websites, we'll explore the key elements that make up a successful SEO strategy and how to execute it.
Understand Your Audience
The first step in any SEO strategy is to understand your target audience. In the financial services industry, this is particularly important, as different segments of the population have different financial needs and goals.
By understanding your audience, you can tailor your website content and SEO strategy to address their specific needs and pain points.
Are you targeting sophisticated high-income earners interested in tax strategy and with a good understanding of investment fundamentals? Or are you trying to reach a broader audience of potential clients at all income levels who need more information?
Conducting market research, analyzing your website analytics, and developing customer personas can all help you gain a better understanding of your target audience. You want to know who you best service and try to find more of them.
Conduct Keyword Research
Once you understand your audience, you can begin conducting keyword research to identify the search terms and phrases that they're using to find financial services online. Keyword research is essential in developing an effective SEO strategy, as it allows you to optimize your financial service website content for the keywords that your target audience is searching for.
When conducting keyword research, be sure to focus on long-tail keywords that are specific to your financial services niche. These may have lower search volumes but are more targeted and can help you attract high-quality traffic to your website.
There are several methods to discover great keywords:
Find "striking distance" keywords – Using Google Search Console or a paid SEO tool like Ahrefs or SEMRush, you can see what keywords your website traffic currently comes from. A smart strategy is to focus on keywords ranking in positions 2-10; these are just outside the top of Google search results and can move up quickly with some optimization.
Keyword gaps – using a tool like SEMRush, you can check what keywords your competitors rank higher for or you're missing — and then build out your content for those keyword topics.
Topical keyword research – list out the primary topics of your financial services website. Then use a keyword research tool like Ahrefs, Google Keyword Planner, or SEMRush to generate a list of terms. Start with commercial-intent pillar pages (eg, service pages), then expand out informational pages such as blogs or guides.
Create Optimized Website Content
With your target audience and keywords identified, it's time to optimize your website content for SEO. This involves ensuring that your website is user-friendly, easy to navigate, and has high-quality content utilizing your target keywords.
Most importantly, your content needs to answer the question the user Googled. Start by creating an SEO content brief. You can use a tool like Frase or Surfer to do this or by visiting a number of other high-ranking pages from search engine results pages.
Lay out the article outline to ensure it covers the key topics and major supporting keyword themes.
Here is an example of an outline generated by Frase: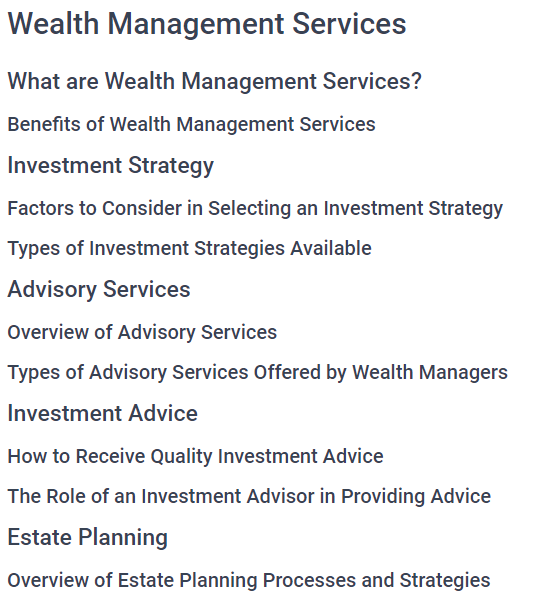 Using this, you can now begin writing the content or enhancing an existing page to improve its rank in search engines. A tool like Surfer can also guide you in writing the content by suggesting keywords to incorporate into the page.
Building Links
Links are an important component of any good SEO program. Start by creating internal links that point from one page to another. Whenever one page references information on another page, create a link to it using the keyword as an anchor text. That's the easy part.
The harder part is creating backlinks from other websites to your website. There are many link-building strategies, but the premise is to get other websites that are relevant to yours to add links to you. This
can be done through outreach, paid placements, and networking.
Leverage Local SEO
For financial services businesses with physical locations, local SEO is an important component of an effective SEO strategy. This involves optimizing your website for local search terms, such as "financial advisor near me" or "banking services in [city]."
To optimize for local SEO, you'll need to create location-specific pages on your website, optimize your Google My Business listing, and ensure that your NAP (name, address, phone number) information is consistent across all online directories. Whitespark.com is a great NAP provider to consider.
Monitor and Analyze Your SEO Performance
Finally, it's important to monitor and analyze your SEO performance regularly to identify areas for improvement and make necessary changes to your strategy. Use analytics tools like Google Analytics to track your website traffic, user behavior, and conversions, and use this data to make data-driven decisions about your SEO strategy.
In Conclusion
SEO is an essential tool for financial services businesses looking to increase their online visibility and generate leads. By understanding your audience, conducting keyword research, optimizing your website content, leveraging local SEO, and monitoring your performance, you can develop an effective SEO strategy that helps your business stand out in search engine rankings.