Document Ads are an ad placement option within LinkedIn Advertising. These ads can promote different types of documents directly in users' feeds, which individuals can download onto their computers and/or mobile devices. These document types include PDFs, Microsoft Word Documents, and PowerPoint presentations.
Document Ads are a type of sponsored content on LinkedIn, meaning you have to pay to use this feature. However, this sponsored content could increase sales and sign-ups for your products/services when using documents to increase brand awareness and tell your target audience about your offerings.
What Are LinkedIn Document Ads?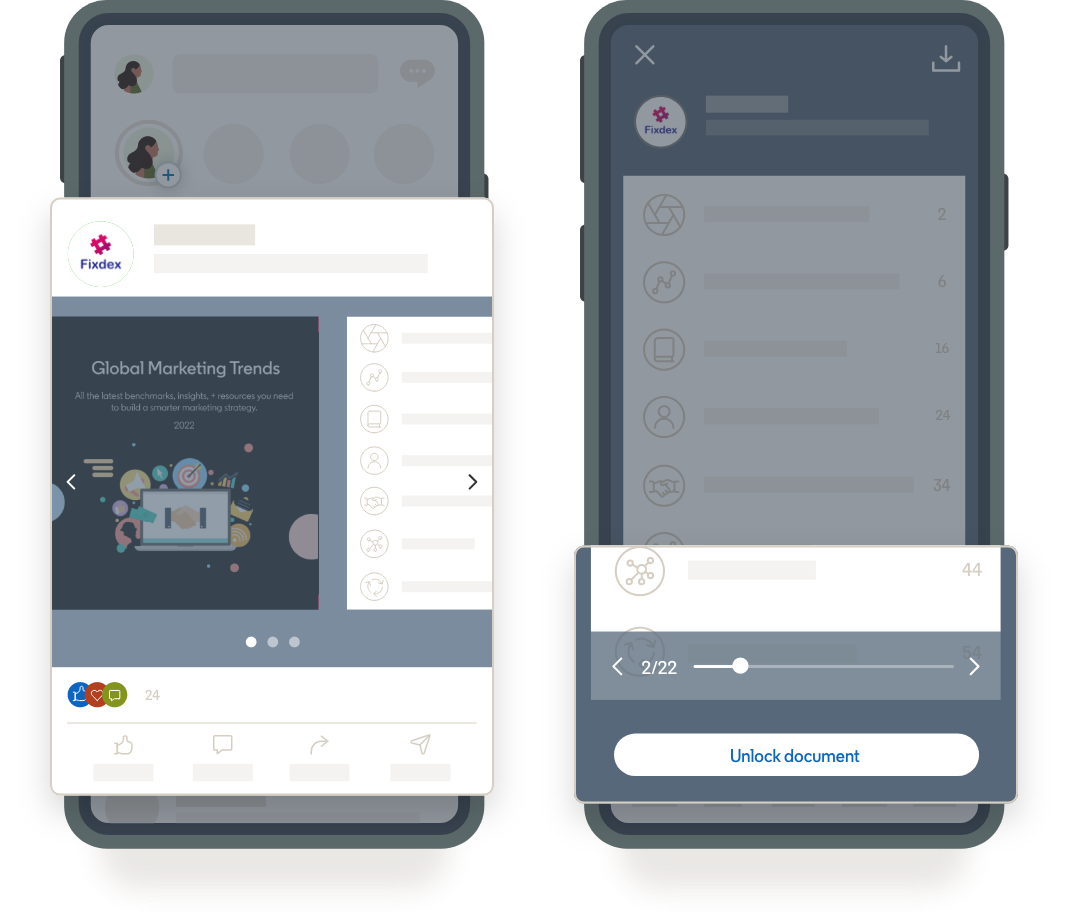 Normally on social media and business networking websites, you have to provide users with a direct link to a landing page on your own site for them to download a document such as PDF or PowerPoint presentation. This two-website process might discourage members of your target audience from downloading documents onto their devices.
In September 2022, LinkedIn launched a new feature and ad format called Document Ads, which removes this two-site process by providing users direct access to document downloads on their feeds. It was the first mainstream business networking/social media platform to introduce this capability. 
Benefits of LinkedIn Document Ads
Here are some of the benefits of Document Ads:
Promote downloadable content
As previously mentioned, LinkedIn Document Ads help you promote downloadable content in users' feeds that increase awareness about your company's products/services. For example, users can download an ebook directly through LinkedIn rather than having to click on your website, which might result in a sale of one of your products.
LinkedIn determines the price of your ad based on the number of people you want to target on its platform and what kind of information you display in your ad. 
Data collection
As well as allowing users to download documents without leaving their feeds or the LinkedIn platform, Document Ads help you collect critical data from potential customers. Users need to provide a few personal details — which the platform auto-fills in LinkedIn lead gen forms, removing the need for users to manually enter their data — before downloading a document.
These personal details, such as names and email addresses, might be valuable when generating leads and turning them into paying customers. For example, you can send further marketing messages to leads generated from LinkedIn lead gen forms via email and tell them about industry developments, product launches, and other information. 
Provide users with more information
Document Ads are also beneficial for providing LinkedIn users with additional information that won't fit in a short status update. For instance, you can promote an upcoming free webinar in an update and then list details of the event in a PDF that users can download directly on LinkedIn. You can use your PDF to encourage people to sign up for your webinar by listing its benefits for their careers or business. 
Users will also be able to share documents with other people, further increasing awareness about your business or event.
Learn more about your leads
Like other ad formats on LinkedIn, you can track Document Ads campaigns and learn more about leads. For example, you can discover how many people enter their personal details in lead gen forms and download your documents. If you find out individuals aren't engaging with your Document Ads campaigns; you can update the text in your ads to make them resonate more with your target audience. 
There are several ways to track data in your campaigns. LinkedIn's in-built analytics tools provide intelligence about who engages with your ads and downloads your documents on the platform. For more insights, you might want to use a third-party analytics service like Google Analytics, which offers additional metrics and key performance indicators (KPIs).
Improve decision-making
Sharing insights about LinkedIn Document Ads performance with team members and stakeholders can improve decision-making in campaign management. 
You can also track other elements of your LinkedIn campaigns, including all the ad formats used to engage potential customers — conversation ads, native video ads, image ads, etc. 
Ease of use
Using LinkedIn Document Ads are relatively simple. You can create one of these ad formats by determining the parameters, objectives, targeting criteria, and bidding strategy for your ad campaign in LinkedIn Campaign Manager. For example, you can define which subsections of your target audience will see your ad and how it will appear in their feeds.
LinkedIn then lets you write the text for your ad, encouraging users to leave their contact details in exchange for downloading a document. Users click a call-to-action button (CTA) in your ad before LinkedIn auto-fills their contact information in a LinkedIn lead gen form and sends it directly to your business. You can then add this data to your customer relationship management (CTA) system or other database or keep it in your LinkedIn account.